Learn how to create communities, the different types of communities in ahead, and discover examples as inspiration to get you started
What are communities?
Communities in ahead are places where groups of people can come together to connect and exchange about common interests, hobbies and goals.
Creating and fostering communities where your employees can connect with each other, learn new things and exchange ideas and information can lead to improved collaboration, higher productivity and increased employee engagement and job satisfaction.
What types of communities are there?
In ahead there are three types of communities based on their access and discoverability:
Public: anyone can see and join public communities
Gated: you can discover gated communities but need to request access or be invited by members of the community to join.
Private: you need to be invited by an administrator of a private community to become a member and only members of the community can see it.

Note: Permissions to create communities can be customized individually. Contact us at support@aheadintranet.com to change your default permissions.
Activate communities in ahead
Communities can be activated by your intranet administrator in the Company Settings under the General tab.
You can enable the Communities Starter which allows you to create up to five communities of any type.
Creating more than five communities is a premium feature. If you're interested, send us an email for more information at support@aheadintranet.com and we'll set it up for you.
Where can I find communities?
After communities have been enabled, you can go to communities from your profile menu.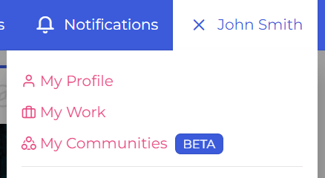 💡What does BETA mean? It means the feature is relased and ready to be used, but we're still working on it - mainly small cosmetic changes.
Under Communities you see the communities you're a member of, your pending requests and invitations and you can discover other communities in your organization.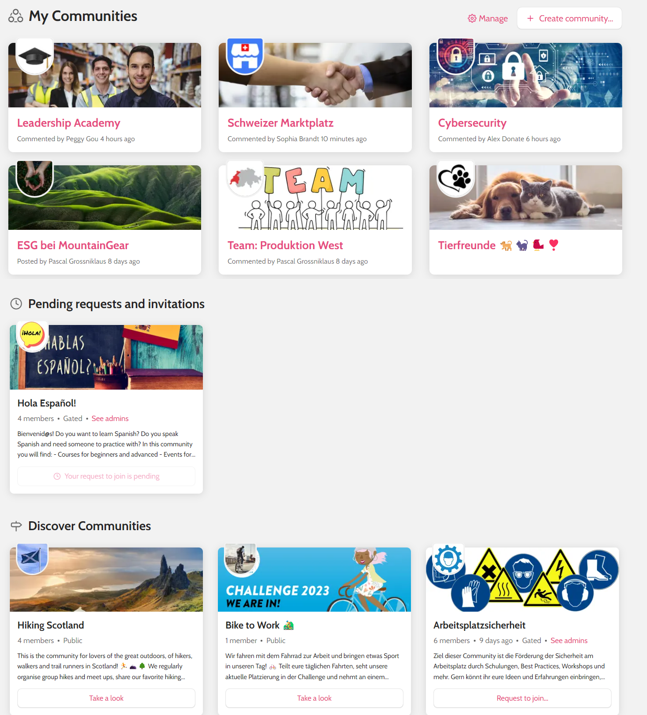 How do I create a community?
Click on + Create Community to start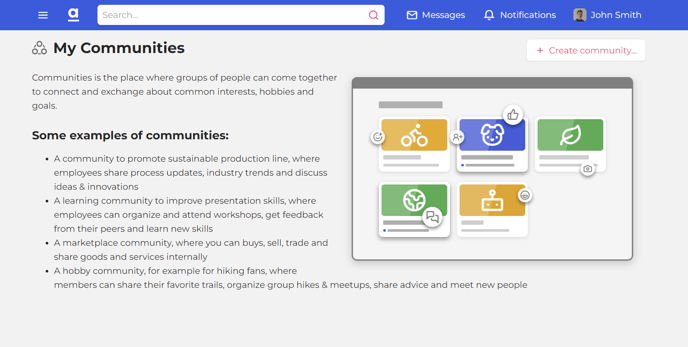 Choose the type of community, give it a name and a description and click create.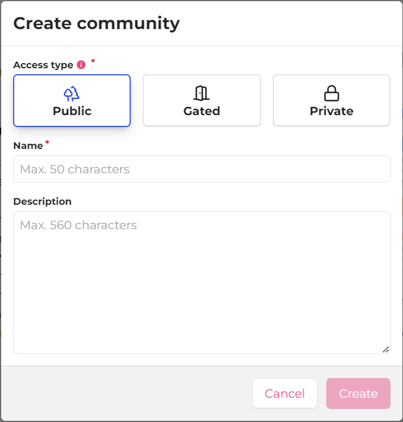 Make your community look nicer by adding a cover image and a shield.

Manage community members
When you create a community you are its admin. You can invite people to join your community as well as manage the community members. You can give admin rights to others or remove them from the community.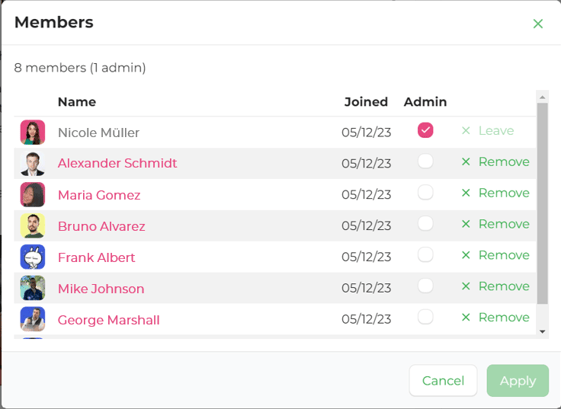 In a gated community, you will receive requests to join. You can accept or decline them.

Once you've joined a community, a new widget will appear in your ahead starting page. It will show you a community with the latest activity.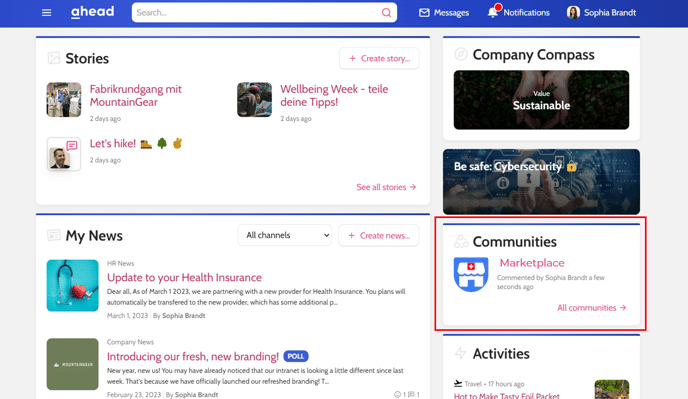 Posting in a community
Posting is easy! You can format your text using keyboard shortcuts (e.g. Ctrl + B for bold, Ctrl + I for italics) and tag other community members with an @...

Add one or more images to your post and view them in a gallery. You can add images by clicking the icon or by copying and pasting into the post.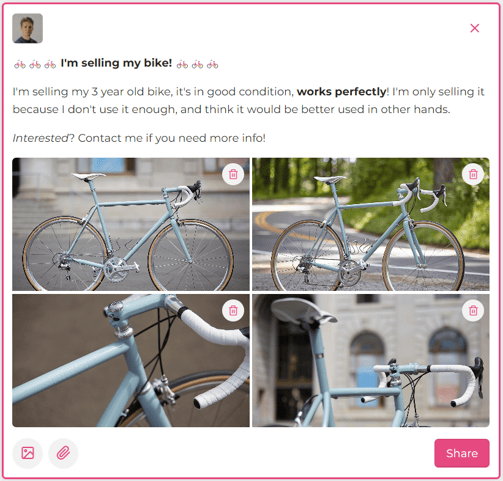 You can also attached files and share links with link previews.
Managing communities
As an intranet admin, you can view and manage all communities.

Here you can see the number of members, level of activity and creation date of your communities. You can also view each community's admins and delete communities if needed.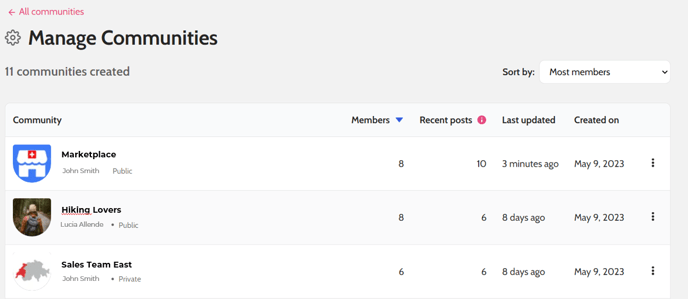 💡 Some community examples to inspire you 💡
In terms of employee communities we've defined three main types:
💼 Professional communities and communities for business initiatives: these are more formal communities where employees can exchange and collaborate about business topics and projects. They provide a central place where they can find and share information and they could be private groups where sensitive or confidential information and topics are shared and discussed.
🎓 Learning & development communities: are a place where people with similar interests or needs can learn from experts on several different topics, ranging from technology to business or social skills. Employees can organize and attend workshops and trainings, ask questions and get feedback from experts.
🤗 Leasure & fun communities: are communities where people come together based on common interests, passions and hobbies. They don't have to related to work and are a more informal place for networking and meeting new people.
Examples of professional communities 💼:
A community to promote a more susntainable production line, where employees share process updates, industry trends and discuss ideas & innovations.
A "Leadership Academy" where new managers & team leaders can share their experiences, seek and give advice and share best practices.
A cybersecurity community where members can share tips & best practices, raise awareness about current trends & issues and discuss actions to take internally.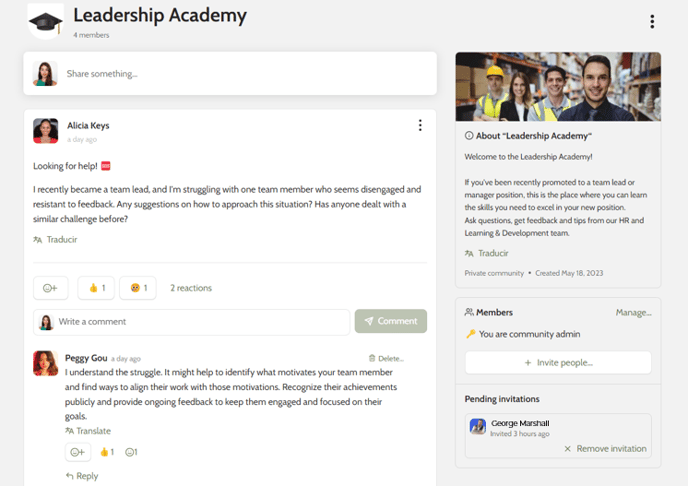 Examples of Learning & Development communities 🎓:
A community for those who want to learn a new language, where members can organize meet ups for casual conversation as well as language classes, share tips on movies & TV shows in a foreign language.
"Presentation-Pros", a community to gain and improve your presentation and public speaking skills. Members can gain knowledge from experts, get direct feedback from peers and organize workshops & trainings.
A community for promoting workplace safety, where members can attend trainings, receive newest safety regulation updates, or report incidents.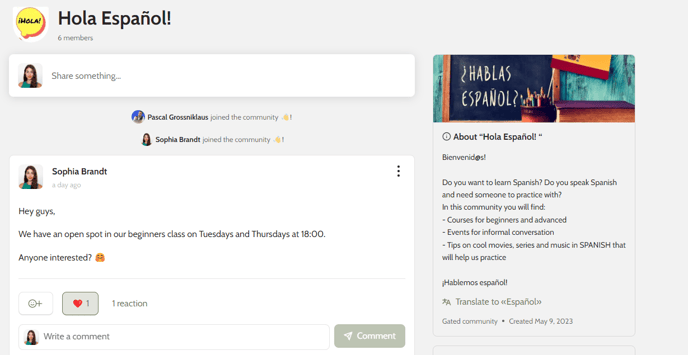 Examples of Leisure & Fun communities 🤗:
A community for hiking fans and lovers of the outdoors, where members can organize group hikes, share their favorite trails and secret spots, share advice and experiences and meet new people.
A marketplace community where you can buy, sell, trade and share good and services internally.
A community for parents, where members can share experiences, trade toys & clothes, seek advice or resources, organize playdates and meet ups.