Learn how to add the ahead app to Microsoft Teams and receive notifications on ahead content
To make it even easier to stay up to date on news published in ahead, you can add the ahead app in Microsoft Teams to receive notifications when new content is published.
The app currently serves two functions:
Notification bot: receive notifications of news published in ahead (provided you are part of the target audience and the in-app notification option was selected)
Share ahead news in Microsoft Teams chats: one-to-one, one-to-many and channels
Follow these simple steps to add the app to Microsoft Teams:
Open Microsoft Teams and click on "Apps" on the bottom left
Search for "ahead" and select the ahead app
Click "add" in the pop-up window

The app will appear on the right side, make sure to pin it so you can access it more easily. You'll receive an initial welcome message.

How to publish news so that users get a notification in Microsoft Teams:
When publishing the news, make sure to select the in-app notification option under Notification in the news editor

Members of the target audience will receive a notification with a link to the news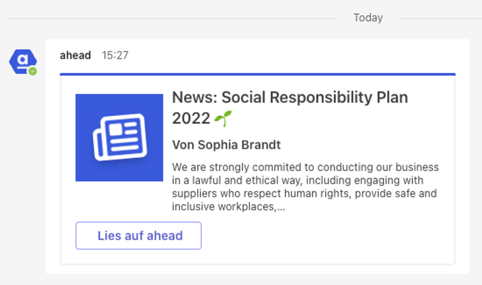 How to share ahead content in Microsoft Teams chats:
In a chat, click on the three dots below the chat box and select the ahead app

Select the news you'd like to share
FAQ