This article shows you how to upload videos in news and pages, there are several options.
In order to upload video content one has the possibility to use two different features (in the building block): "Video" or "Embedded content"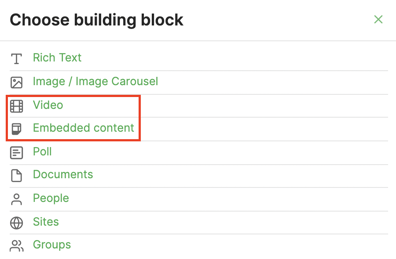 Both possibilities work in similar ways when using the option "Video" a URL has to be provided (e.g. to a youtube-video) or option "Embedded content" that asks you to provide <iframe> code or URL.
Example: Upload video using Microsoft Stream
Basically any platform (that afterwards allows to share content across platforms) can be used to upload content. In the following example we'll use Microsoft Stream.
One could also login to Microsoft Stream using his/her mobilephone to upload content and access the file on the desktop computer afterwards in order to create content on ahead.
Open https://web.microsoftstream.com
Login with your companies credentials
Klick on "+ Create" and "Upload video"

As soon as the video has been uploaded, one can hit "Share"

Copy the link provided and insert it in the URL field in ahead (when clicking on the "video" building block in ahead)

You might notice that there is also the option to "Embed" the video from Microsoft Stream. This would allow to also have some more settings available (like autoplay, show information, video size, ...). When choosing this option, you have to use the "Embedded content" building block in ahead.