In ahead there are two possibilities to attach documents to pages or news: Linking with M365 or direct upload in ahead.
In the following article, we will go over the two options and describe how they work.
Directupload
If there is no possibility to link the documents with Microsoft 365, documents can be uploaded directly in ahead. The "Documents" module is used for this purpose.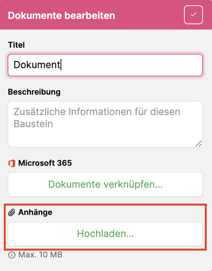 Direct uploads must not exceed the size of max. 10 MB. The documents are encrypted (RSA2048 bit) and stored on Azure (location: Northern Europe). Ahead does not have direct access to the documents.
There is currently no way to restrict users' access to the documents. I.e. anyone who can access the news or page in ahead can access the document.
Documents that are uploaded directly in ahead cannot be found via the search function in ahead.
Link with Microsoft 365
Alternatively, documents can be linked to M365 SharePoint. Thus, the documents can be managed in the background in SharePoint. For example, templates can always be kept up to date without having to re-upload the document after every change.
Documents that are linked via M365 can be found directly in ahead (title + text). The user is in the context of his/her Microsoft credentials, i.e. only has access to documents that have been explicitly released to him/her. In short: SharePoint security concepts are followed.
Documents that are linked are linked by Document ID (GUID). As long as this ID is not changed, documents can be moved within SharePoint without affecting the integrity of the link. Following a Do's and Don'ts:
Do: Move documents to another folder
Do: Move documents to another library (in the same site)
Don't: Move document to a sub-site
Don't: Move document to another site collection
Principle in handling documents
Secret documents and/or documents whose content is highly sensitive should not be linked to news or pages. The intranet is for the entire staff, i.e. in principle it should be assumed that all content is accessible to the staff.